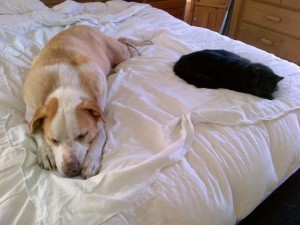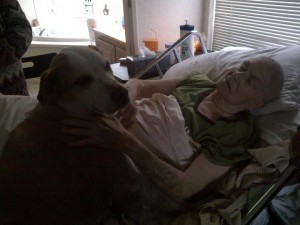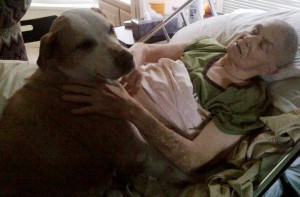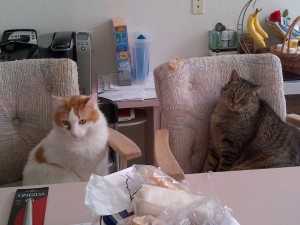 Plea from Jill's 4 Fur-Babies. They will have no place to go when she passes over and that will be any day now. Please help us. Timber (the Dog) raised Squeakers (the cat) since 4 weeks old so they must go together. TJ and Harry (the cats) are best buds and need to go together as well. We aretrying to set upa fund to help with their costs.
…Our mom is not going to make it much longer! Ther are 4 of us. 1 dog Timber and 3 cats Squeakers, Harry, and TJ. Our mom has no family but us fur-babies and we have no place to live when she passes over. Her friends are by her side night and day and it wont be much longer. They are taking care of us but we have to find a place to live by the end of the month. PLEASE HELP US.
These are Jill's handwritten descriptions..
TJ and HARRY…
" These 2 are my "kids". They play together all the time. Run around and chase each other up and down the hallways and take turns biting each other on the back of their necks. Harry is a male about 6 yrs old and TJ is male and just turned 2. TJ is a long-haired tan & white sweetie who loves to be held upside down and rocked in your arms. He does have to be brushed frequently. Harry is a short haired tabby with stripes that are not real defined but he's my "Sweetie Pie " and the one who mediates all the cats. These two really need to stay together if at all possible. They are strictly indoors but really curious about the outdoors so you would have to be very careful. Watching them play together will make you laugh and feel good." We are all fixed.******************************************************************Dog Timber and cat squeakersJill's description –" ½ great pyrenees and ½ American staffordshire . Timber is male and 10 yrs old. Tan and White coloring. Very sweet dog but protective. Large bark but no bite. Loves to play ball. Will chase it and bring it back until he's too tired and then he brings it back but won't let you have it. Loves to go on walks and ride in the car. He loves me and squeakers the most. He has the beginnings of arthritis and has some skin allergies. I know it's hard to place a large older dog especially when you want a cat (squeakers) to go with him but he is really a great dog and Squeakers is alive because of Timber and they really love each other. Squeakers is about 9 yrs old black long haired female with big yellow eyes who was given to me at 3 weeks old. She was so weak she couldn't raise up her head. She bit the nipple off her first bottle and she growled the whole time she was eating. She still growls when you pet her. She loves to sleep with Timber and she rubs against him when he walks. Timber woke me every two hours for me to feed her when she was just a few weeks old. He cleaned her and cared for her so they are pretty tight. She cries if Timber is gone for a long. If possible I hope they can go together. They really would adapt better to a new home if they stay together." NO BIG DOGS FOR TIMBER AND SQUEAKER!!! We are all fixed. **********************************************************************WOW everyone! Over 1000 shares between all of the pics. If we knew it would get this big, we would have done it another way but… it is what it is I guess! Thank You! Jill's babies still need help!Please feel free to send a prayer or thought to Jill on any of the album threads. Her caretaker is going to try and get on here and read some to her.